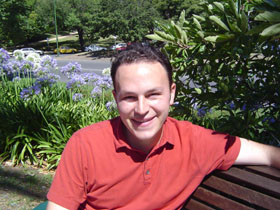 I am Assistant Professor of Political Science at Michigan State University. I began work at MSU in 2007 after receiving my Ph.D. from U.C. Berkeley. My research concerns interest group representation and influence, campaigns and elections, political networks, and federal policy change in the United States. This year, I will teach the PhD proseminar on American politics as well as Preparing for Dissertation Research and undergraduate courses on the policy process.
My book, The Organization of Factions: Interest Groups in Public Representation and American Governance, is forthcoming in 2012 from Stanford University Press. The book explains why certain public groups, such as Jews, lawyers, and gun-owners, develop substantially more representation than others and why certain organizations, like the National Rifle Association, become the presumed spokespersons for these groups in all types of media and all branches of government.
I have published journal articles on political party networks, interest groups, negative campaigning, the consulting industry, group theory, ethnic representation, environmental organizations, technology policy debates, campaign professionalization, and public opinion about campaigns. I am also co-author of a campaigns & elections textbook (forthcoming from W. W. Norton in 2012).
My current research covers the political circumstances and governing networks driving policy change in American domestic policymaking since 1945.
In addition to academic work, I wrote a state commission report on the use of the Internet in political campaigns and co-authored a book on campaign strategy for practitioners. I also serve as the director of the Michigan Policy Network, an outlet for online reporting and research on state policy by MSU undergraduates.